Build Your
Advisory Firm's Brand
Introducing Advisor Brand Builder, an innovative new platform revolutionizing the brand building journey for financial services firms.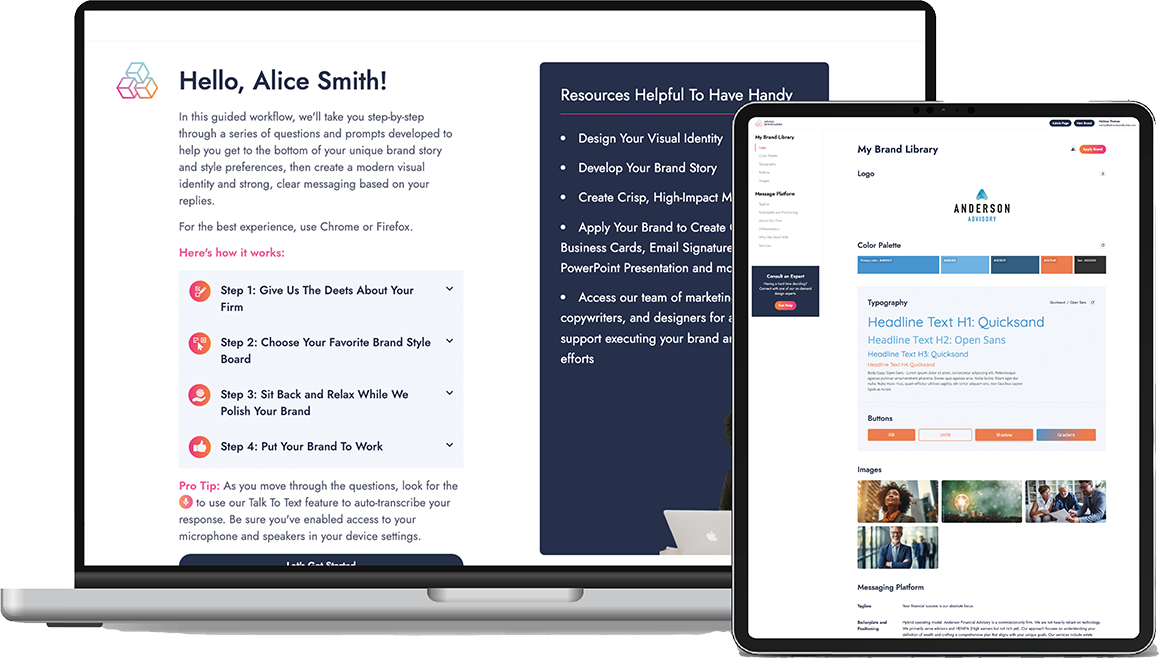 Every Good Advisor Needs a Great Brand
Advisor Brand Builder is the simplest way to build a professional, high-impact brand identity and message platform for…

looking to create a strong brand foundation for their new business

Established advisory firms
looking to level up the quality and impact of their brand visuals and messaging, quickly and affordably

seeking a turnkey solution to quickly and effectively rebrand newly acquired advisor businesses
Strong Brands See 20% More Revenue Growth
Build a Powerful Brand Identity In Minutes, Not Months
Our interactive platform will help you create a company brand based on the expertise of financial services brand-building pros for a fraction of the typical cost and time.

A Complete Brand Identity
A unique-to-you logo, color palette, and more
Crisp, custom company messaging
Matching business cards, PowerPoint templates, social media graphics, and more

Professional Guidance & Support
An experienced brand concierge available to guide the process
Access to financial services marketing experts to help with future marketing needs

Built from years of helping advisory firms like yours create and execute impactful and differentiating visual and written brand identities
How Advisor Brand Builder Works
The Power of Innovation, Expertly Blended with the Perspective of Experience
Combining the innovation of a digitally-driven, AI-enhanced workflow with the expertise of seasoned finserv marketing pros, Advisor Brand Builder uses real info about your business and style preferences to serve up a range of beautifully designed, expertly crafted brand visuals and messaging in less time, for less cost. Here's how.
Complete the Questionnaire
Our guided brand discovery workflow, developed from years of guiding financial services firms toward a killer brand, helps you get to the bottom of your brand story, and features like Talk to Text transcription make it simple and convenient to capture your responses.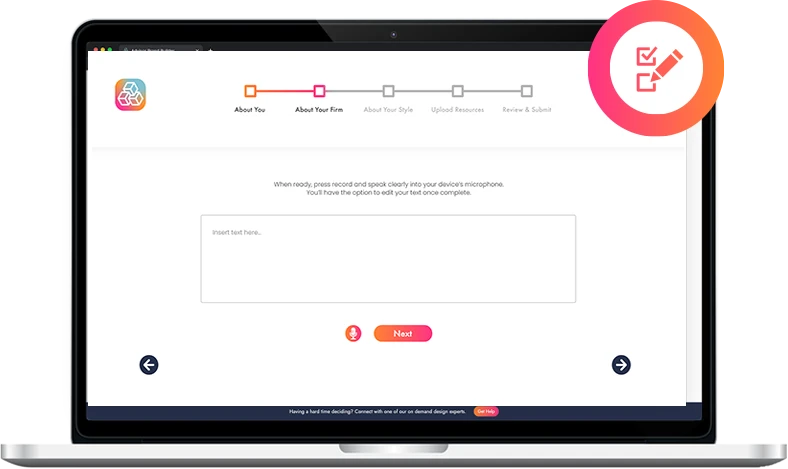 Select Your Brand Style
& Message Output
Based on those responses, our brand engine develops three fully custom and customizable style-boards and message platforms tailored to your unique brand preferences; within each, you'll have unlimited ability to refine individual elements, like color palettes, images and more, and adjust messaging until you love what you see.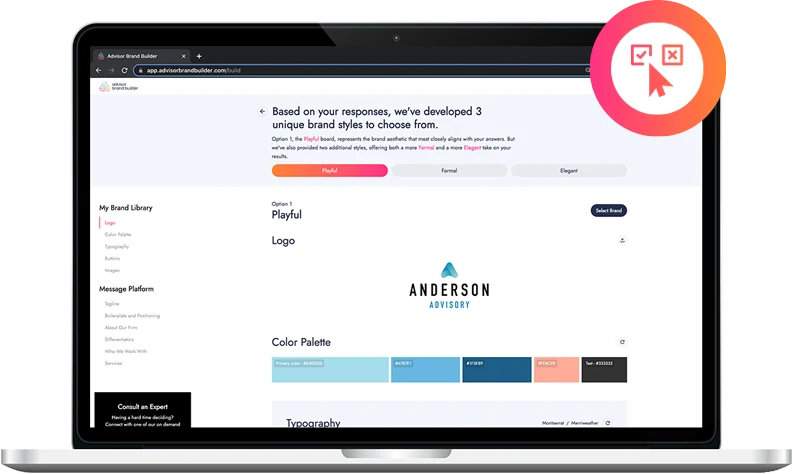 Finalize Your Choice with
Your Personal Brand Concierge
After you've selected the brand visuals and voice that best reflect your business, our team of pros will step in to give your selection a final polish. And if you ever need guidance before then, our in-app chat connects you instantly to our legion of brand gurus.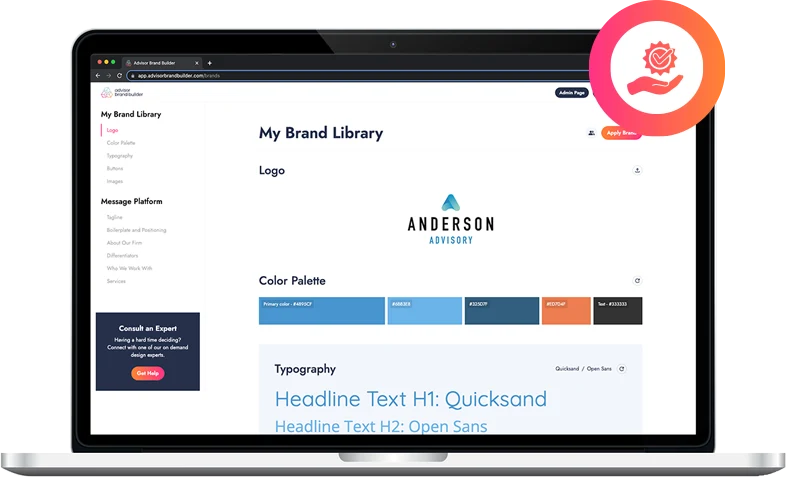 Here's where the magic happens. With the click of a button, watch your brand come to life across our ever-growing library of brand and marketing assets, which you and your team can view and download anytime.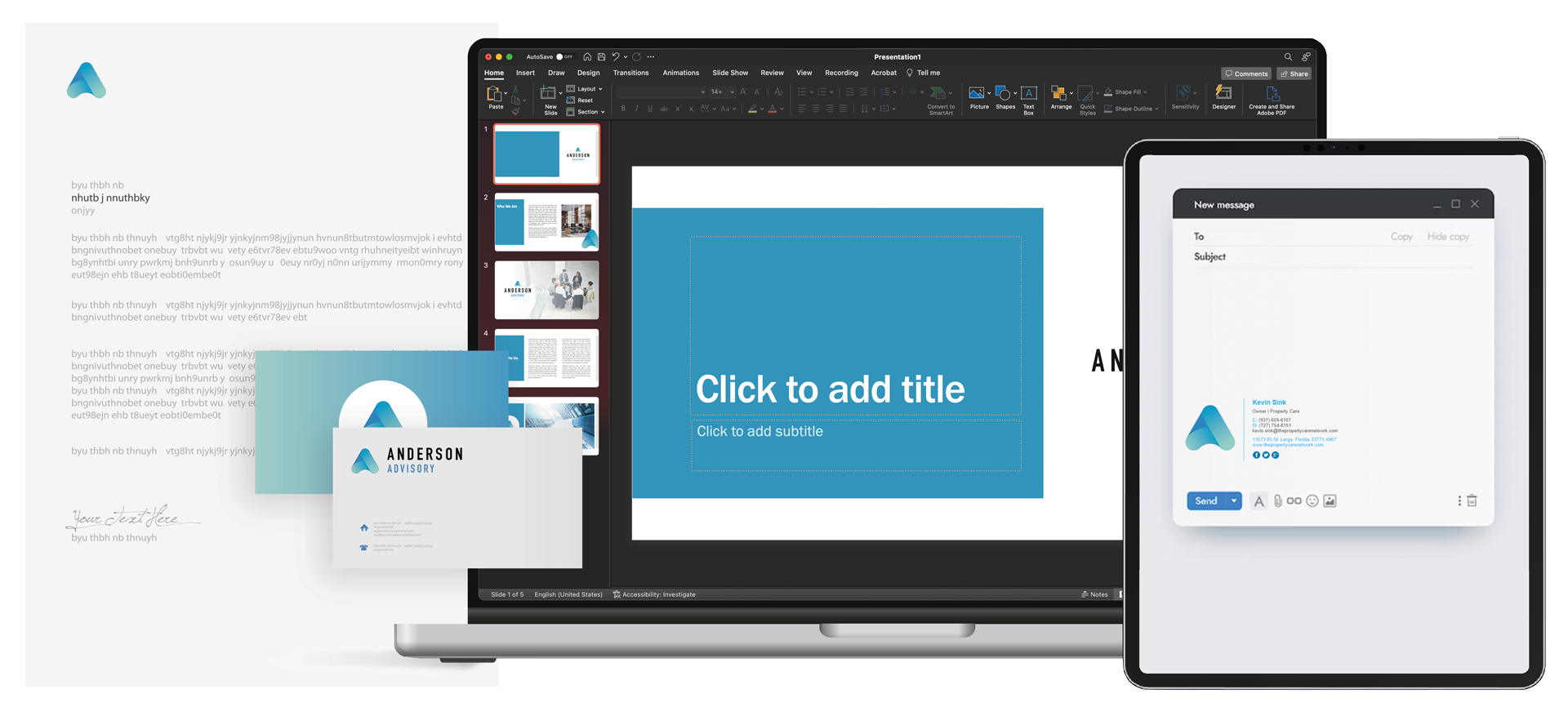 Solving an Age-Old Problem
with a New Age Solution
Advisor Brand Builder was designed by a team of finserv marketing and agency leaders for one very simple reason: Advisory businesses and the firms that support them needed a better way to develop and deploy professional brands.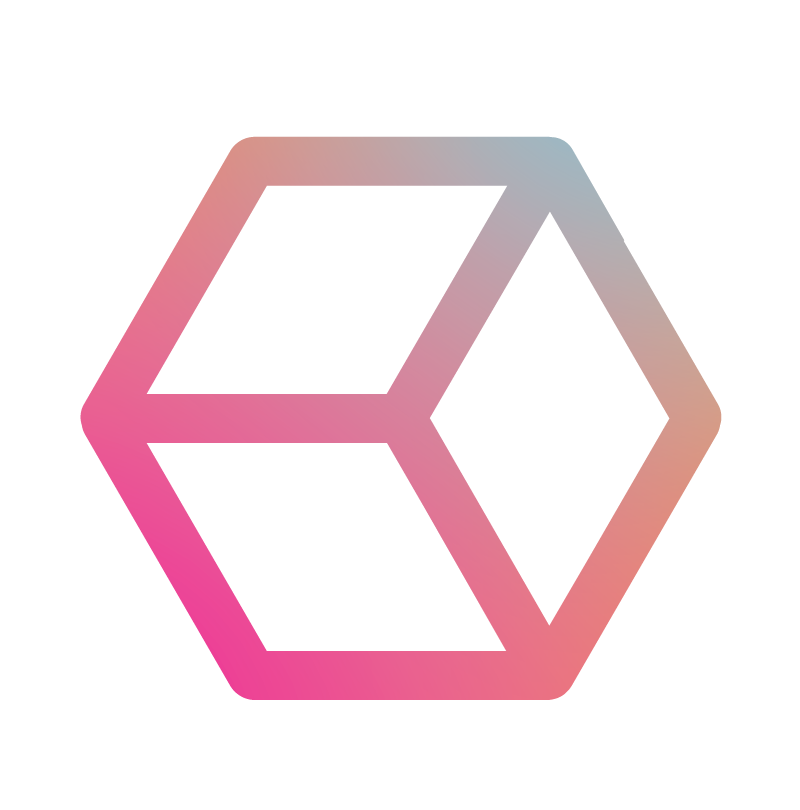 The Traditional Approach Doesn't Work
Hiring a branding agency or professional designers and copywriters often comes with a hefty price tag and long-lead times, making it prohibitive for many individual advisors and complex for home offices in need of a scalable, efficient solution.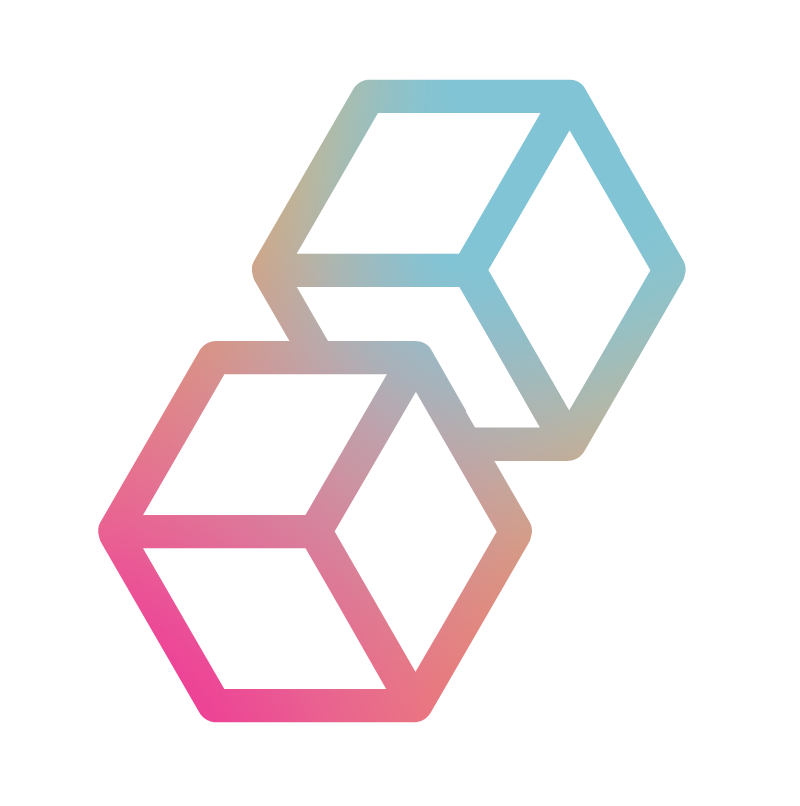 High-Tech Options Just Aren't Good Enough
Innovations such as generative AI have not quite evolved far enough to fully replace human marketers or designers, forcing advisory firm-owners who leverage these tools to also pay for agency services or worse, launch a poorly constructed, unoriginal brand.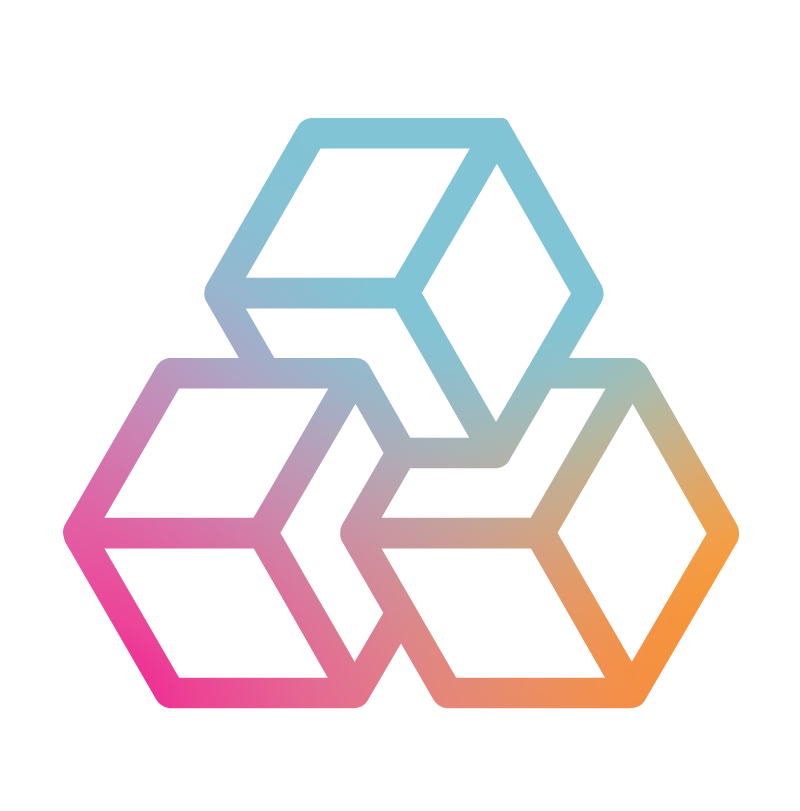 Advisor Brand Builder Blends the Best of Both
Advisor Brand Builder brings together the best of both approaches — human and machine — into one powerful brand development experience, giving advisors and their home office counterparts a fast and affordable way to build and launch a unique, high-quality brand identity.
It's the answer to the age-old "good fast affordable" conundrum.
And it's called Advisor Brand Builder.

"ABB combines the expertise and oversight of the agency experience with an AI-optimized workflow to deliver a revolutionary brand development experience."
Kelly Waltrich, CEO, Intention.ly

Break Free from the Mold of Traditional Advisor Brand Building Services